Curbside is the way to go! We have been offering curbside pickup of library materials throughout our closing, and now we will offer curbside service for photocopying and faxing of essential documents! The cost of photocopying will be $.25 per page/ b&w only. The cost of faxing is $1.00 per page. Call 860-642-6207 for curb service.
Check out the variety of free resources- eBooks, eAudiobooks, magazines, and research databases. We have included many links to online programs, author talks, health, and current trends. You just need a Franklin Library card!  What you don't have one yet? Need a library card?  contact us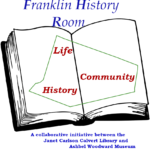 1000 Books Before Kindergarten  Yes! Reading 1 book a night for 3 years is a total of 1095! Register and receive your first reading log. Birth to 5 years. ***If you have a newborn (maybe expecting a child this year!), or a child 5 yrs or younger, sign up for 1000 books before Kindergarten and earn fun prizes along the way! Children that are home-schooled are encouraged to join.