JCC Library Temporary Hours
(open to the public)
10:30-3:30 Tues, Wed, Thurs.
10:30-12:30 Saturdays
Appointment Times
9:15-10:15 or 3:30 – 4:30 Tues, Wed, Thurs.
Saturdays do not have afternoon hours.
Call 860-642-6207 for an appointment or curb service
The door by the book drop is the temporary entrance. Before entering:
– Must wear a Face Covering – at all times – while enjoying library
services Per First Selectman.
–  30 minutes allowed for library and/or computer usage per person.
–  Limited number of 10 people allowed in the library at one time.
– Must adhere to social distancing, please stay a minimum of 6 feet apart.
– Please drop library books in the book drop before entering. Mandatory
72 hours hold on all returned items!
– To control building numbers, please look at the Capacity Sign by the
entrance door. If at capacity, you have the option to wait, phone the
library staff at 860-642-6207 or ring the doorbell for assistance.
– Please complete the survey at the Library entrance.
– Curbside service is still available! Call 860-642-6207 for a Staff Member
– If you prefer to enter with only staff, please call for an appointment.
Appointment times are 9:15 -10:15AM or 3:30 – 4:30PM, T,W,TH, S
Afternoon hours not available on Saturdays.
PROGRAMS for  (pdf)     July 2020    August 2020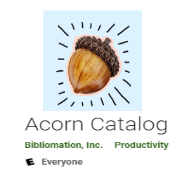 Need a library card?  contact us
The Library doors are closed through July but we are still here for you and offering more services…
-Curbside is the way to go!  We have been offering curbside pickup of library materials throughout our closing, and now we will offer curbside service for photocopying and faxing of essential documents! The cost of photocopying will be $.25 per page/ b&w only. The cost of faxing is $1.00 per page.
-Appointments for browsing & tablet help begin July 21st Browsing for at risk patrons available. Help signing on to a library resource, call 860-642-6207 to reserve a time during the following hours, Tuesday – Thursday 11am-2pm. Please wear a mask.
Check out the variety of free resources- eBooks, eAudiobooks, magazines, and research databases. We have included many links to online programs, author talks, health, and current trends. You just need a Franklin Library card!  What you don't have one yet? Check out our website for more information. (coming soon)
August 30th @ 5pm Last day for I Spy Franklin! and Summer Reading
The Franklin History Room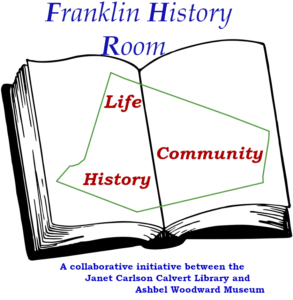 The Franklin Historical Society, Ashbel Woodward Museum, and Janet Carlson Calvert Library are proud to invite people to take part in the Franklin History Room project. The Franklin History Room is designed to help preserve what life is like in this historic time of the COVID-19 pandemic.
We invite everyone, of all ages, to share photographs, recipes, stories, activities, and anything else they are doing during this time with us. We will be sharing all of this digitally at www.calvertlibrary.org, www.sites.google.com/site/ashbelwoodwardmuseum, www.facebook.com/JCCLibrary, and at www.facebook.com/FriendsOfAshbelWoodwardMuseum/.
Whether it is in images or in story, we want you to help preserve a record of this major event. We ask that you send any submissions to franklinhistoryroom@gmail.com
If you include a photograph, please give us a brief description of the photograph and all individuals within the picture. With all submissions please include your name and contact information.
We hope to see everyone share parts of their time during COIVD-19.
Matthew Novosad, Franklin Historical Society President
1000 Books Before Kindergarten  Yes! Reading 1 book a night for 3 years is a total of 1095! Register and receive your first reading log. Birth to 5 years. ***If you have a newborn (maybe expecting a child this year!), or a child 5 yrs or younger, sign up for 1000 books before Kindergarten and earn fun prizes along the way! Children that are home-schooled are encouraged to join.