PROGRAMS for  (pdf)     June 2020   
Children·Teens·Adults
Summer Reading Sign Up
Starts June 1st!
Make JCCL a summer destination and Imagine Your Garden with us! In July, we will be holding virtual & outside programs while enjoying our gardens. Here's a preview… Outside Story Time with take home craft, short stories and poetry at the Butterfly Bench, I Spy Franklin, garden crafts and much more!
The Franklin History Room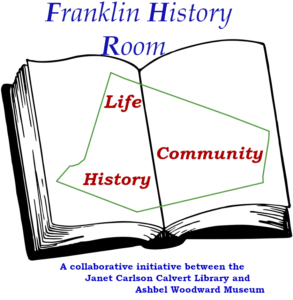 The Franklin Historical Society, Ashbel Woodward Museum, and Janet Carlson Calvert Library are proud to invite people to take part in the Franklin History Room project. The Franklin History Room is designed to help preserve what life is like in this historic time of the COVID-19 pandemic.
We invite everyone, of all ages, to share photographs, recipes, stories, activities, and anything else they are doing during this time with us. We will be sharing all of this digitally at www.calvertlibrary.org, www.sites.google.com/site/ashbelwoodwardmuseum, www.facebook.com/JCCLibrary, and at www.facebook.com/FriendsOfAshbelWoodwardMuseum/.
Whether it is in images or in story, we want you to help preserve a record of this major event. We ask that you send any submissions to franklinhistoryroom@gmail.com
If you include a photograph, please give us a brief description of the photograph and all individuals within the picture. With all submissions please include your name and contact information.
We hope to see everyone share parts of their time during COIVD-19.
Matthew Novosad, Franklin Historical Society President
Online Challenges
Monday, May 4th – May The Fourth Be With You!:  Watch a Star Wars movie! Make a Star Wars themed craft or picture and send to the library Facebook page!
Novel-Tea Bookclub – We may not be meeting in the library but we can try online.  Leave a message by text or phone if you want to give it a try!  The books chosen are free kindle books .  Choices are Banana Cream Pie Murder by Joanne Fluke or Rescuing Reeve by Amy Waeschle.  We will decide on a date and time together.
May 10th – 16th – All  Things Culinary Cook Book Club is challenging all cooks, chefs or anyone looking for some fun, with  a cook-off challenge!  During the week  of May 10th (Mother's Day!) and May 16th , create a special dinner  like chili & cornbread, steak & veggies, anything to celebrate Mom or being home together. Send a picture to our  Facebook page!
More fun on our website – We now offer more free ebooks for children and teens on MackinVIA. More links to books and storytelling, crafting, music, exercise and wellness will be added weekly.
Join us in creating the Franklin History Room located under the Research Tab on our webpage. JCCLibrary and the Ashbel Woodward Museum would like to chronicle happenings, photos and stories you did during the Covid-19 crisis. Instructions are on the webpage.
We will also be collecting all Franklin photos and memories in the coming months.
1000 Books Before Kindergarten  Yes! Reading 1 book a night for 3 years is a total of 1095! Register and receive your first reading log. Birth to 5 years. ***If you have a newborn (maybe expecting a child this year!), or a child 5 yrs or younger, sign up for 1000 books before Kindergarten and earn fun prizes along the way! Children that are home-schooled are encouraged to join.