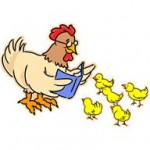 Baby Rhyme Thyme – Tuesdays at 9:45 am. A friendly, half-hour program of singing, finger plays & age-appropriate books.  Recommended for children under 2 years.
Music in Motion for Toddlers – Wednesdays at 10:00 am – A half hour program of dancing and songs for ages 2-4.
Thursday Story Hour – Thursdays at 10:00 am Story time and craft for 2–5 year olds.